Trick or Mystery Box?
Shop - October 25, 2014
It's nigh time for the end of the world! But that won't do, so we'll settle for a Mystery Box instead!
Inside, you'll find sets, pets... Everything you need to celebrate Al Howin!
So, will Ecaflip smile upon you?
Try your luck
before
Sunday, October 26, at 23:45 (EST)
!
It is sometimes useful to put one's ogrines in the same basket. For proof: for any basket of
6,000 OG
or more bought in the
Great Emporium
, you'll receive, as a gift, the
Tofume Ghost
pet! Take advantage of this offer before
Thursday, October 23, at 23:45 (EST)
.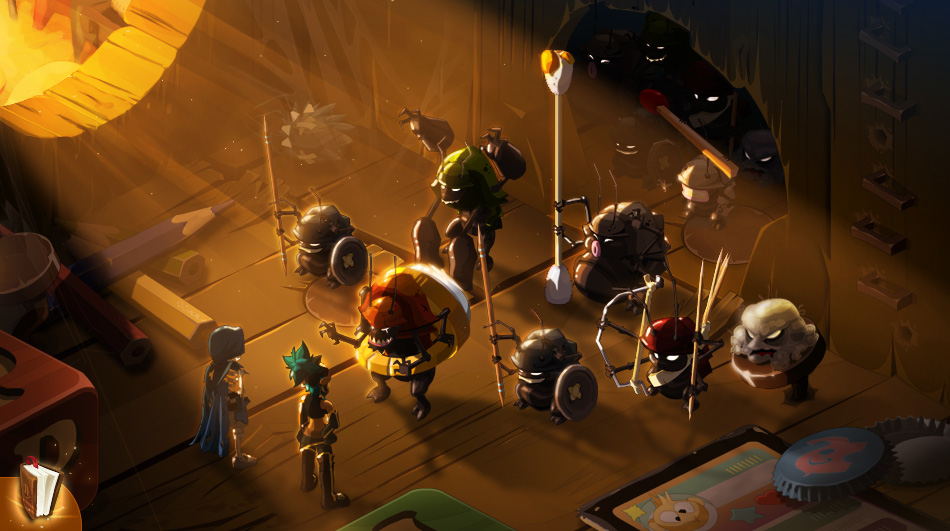 Did you hear that? Shhhhh... Listen... There! There it is again! Scratching, swarming, creeping: sounds made by the Vilinsekts, thieving parasites that only recently started invading walls and beams in Astrubian homes! The situation is quite dire indeed, so much so that the Astrub Bugle has decided to sound the alarm...
Upcoming Changes to the Updater
October 13, 2014 -
Ask any game designers, they will tell you that the first few minutes of game-play are critical: that's when the player gets to discover the game, and decide whether it's worth their time or not. That's why we put a lot of care into Incarnam, Astub and the whole new player experience, but what happens before all that?
 

Grand contest: 2013 quiz on-line!
Community - October 09, 2014
This was yesterday! After months of superheroes and super-villains, in December came the Multimen! This tenth quiz in our grand contest is here to remind you of that, but also to keep getting you closer to the P'Nata Shield. If you want it, only one way: be a... super-player!
Today is World Egg Day! To celebrate, we're offering you the opportunity to win numerous gifts by participating in our "Legg's Go!" creative contest, from October 12 to October 26!

Try Archiduk for free!
Info - October 08, 2014
It seems some of you are still hesitating about getting an Archiduk sidekick. For from them to leave you hanging, the time keepers brotherhood swoops back in full force: your sidekick is now available as a free test for a week!
Last time, we left our very own Botbusters aghast... Although Lichen, Bill, and Simsoft had just administered the beating of their lives to the bots who infested the Agrid server, the infernal machines were just coming back, more numerous and, worse, faster then expected! Our bot hunters couldn't just leave things be... Discover their awesome plan in the new Ankama Office!