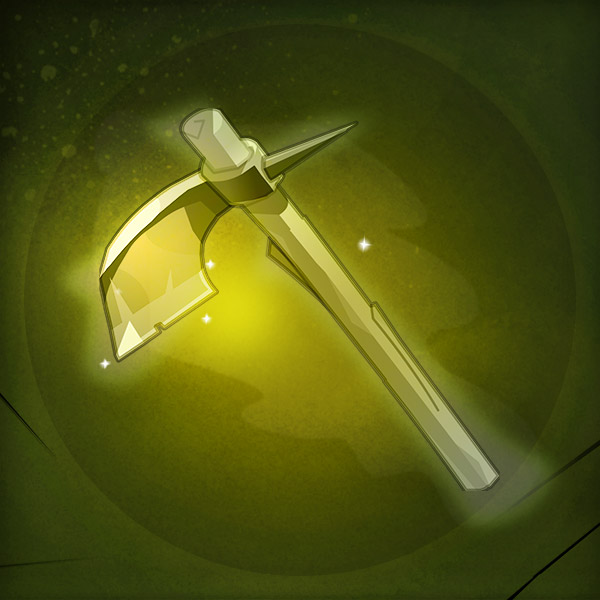 Profession description
A miner spends most of his life in deep mines searching for rare ores and precious stones. He supplies smiths with their primary resources as well as with alloys of his own creation.
Where to learn this profession
Is "Dig, Mine, Excavate" your motto? Well, Casper Van Brushing feels exactly the same way and will even teach you how to express this profound urge.
| | Name | Level | Location |
| --- | --- | --- | --- |
| | Bauxite | 70 | The Bwork Camp, The Evil Forest, Tunnels, Cania Plain, Cania Massif, Sidimote Moors, Dopple Village, Brakmar Sewers, Edge of the Treechnid Forest, Agony V'Helley, The Goblin Camp, Bwork Village, Brakmar City Walls, Rocky Road, Blacksmith Dungeon, The Lonesome Pine Trails, Alma's Cradle, Snowy Forest, Krismahlo Tunnel, Kanig Village, Dopple Mine |
| | Bronze | 20 | The Evil Forest, Tunnels, Cania Plain, Cania Massif, Sidimote Moors, Dopple Village, Brakmar Sewers, Astrub Mines, Astrub Tunnels, Edge of the Treechnid Forest, Brakmar City Walls, Rocky Road, The Lonesome Pine Trails, Snowy Forest, Undertow Rooms, Dopple Mine |
| | Cobalt | 30 | Crackler Mountain, Porco Territory, Tunnels, Cania Plain, Cania Massif, Sidimote Moors, Dopple Village, Brakmar Sewers, Cawwot Island, Isle of the Crown, Edge of the Treechnid Forest, Agony V'Helley, Brakmar City Walls, Rocky Road, Underground Porco Territory, Abandoned Laboratories, Splash Zone, Dopple Mine, Abandoned Halls |
| | Copper | 10 | Crackler Mountain, The Evil Forest, Porco Territory, Tunnels, Cania Plain, Cania Massif, Dopple Village, Brakmar Sewers, Astrub Mines, Astrub Tunnels, Cawwot Island, Isle of the Crown, Dark Forest, Edge of the Treechnid Forest, The Dragon Pig's Maze, Agony V'Helley, Brakmar City Walls, Rocky Road, The Lonesome Pine Trails, Alma's Cradle, The Tears of Ouronigride, Snowy Forest, Abandoned Laboratories, Splash Zone, Dopple Mine, Abandoned Halls |
| | Dolomite | 100 | The Evil Forest, Border of Feudala, Feudala Village, Kitsoune Dungeon, Firefoux Dungeon, Edge of the Treechnid Forest, The Lonesome Pine Trails, Undertow Rooms |
| | Gold | 80 | The Bwork Camp, The Evil Forest, Tunnels, Cania Plain, Sidimote Moors, Dopple Village, Rocky Plains, Brakmar Sewers, Astrub Tunnels, Edge of the Treechnid Forest, Amakna Castle Tunnels, The Goblin Camp, Bwork Village, Brakmar City Walls, Rocky Road, Blacksmith Dungeon, Krismahlo Tunnel, Kanig Village, Dopple Mine |
| | Iron | 1 | Crackler Mountain, The Evil Forest, Porco Territory, Tunnels, Cania Plain, Cania Massif, Dopple Village, Brakmar Sewers, Astrub Mines, Astrub Tunnels, Dark Forest, Edge of the Treechnid Forest, The Dragon Pig's Maze, Rocky Road |
| | Manganese | 40 | Crackler Mountain, The Evil Forest, Tunnels, Arak-hai Forest, Cania Plain, Dopple Village, Brakmar Sewers, Cawwot Island, Isle of the Crown, Dark Forest, Edge of the Treechnid Forest, Agony V'Helley, Brakmar City Walls, Rocky Road, The Lonesome Pine Trails, Snowy Forest, Underground Porco Territory, Abandoned Laboratories, Krismahlo Tunnel, Lost Dimension, Dopple Mine, Abandoned Halls |
| | Obsidian | 100 | Edge of the Treechnid Forest, The Lonesome Pine Trails, Alma's Cradle, The Tears of Ouronigride, Snowy Forest |
| | Silicate | 50 | The Evil Forest, Cania Plain, Border of Feudala, Feudala Village, Bulb Cavern, Firefoux Dungeon, Edge of the Treechnid Forest |
| | Silver | 60 | Crackler Mountain, The Bwork Camp, The Evil Forest, Tunnels, Arak-hai Forest, Cania Plain, Cania Massif, Sidimote Moors, Dopple Village, Brakmar Sewers, Astrub Tunnels, Cawwot Island, Isle of the Crown, Edge of the Treechnid Forest, Amakna Castle Tunnels, The Goblin Camp, Brakmar City Walls, Library Basement, Rocky Road, Kanig Village, Dopple Mine |
| | Tin | 50 | The Bwork Camp, The Evil Forest, Porco Territory, Tunnels, Arak-hai Forest, Cania Plain, Cania Massif, Sidimote Moors, Dopple Village, Brakmar Sewers, Astrub Mines, Astrub Tunnels, Dark Forest, Edge of the Treechnid Forest, The Goblin Camp, Brakmar City Walls, Rocky Road, The Lonesome Pine Trails, Alma's Cradle, The Tears of Ouronigride, Snowy Forest, Dopple Mine |