In cooperation and support with Youbutsu and the Under the Edge team on Henual, we have created Under the Edge on Eratz!

It's a haven of rest for English speakers on Eratz and is the only active English guild that I'm aware of at this time (Apologies if I'm incorrect).

My goals for the guild are:
Create an English driven guild and community on Eratz
Level professions so that guild mates have access to English speaking professionals
Have communication with our sister guild on Henual for camaraderie and advisement
Keep it loose and have fun
Some of the benefits we currently offer:
Crafters!

Level 100 Jeweller(s) - CHECK!
Level 100 Tailor(s) - CHECK!
Level 100 Shoemaker(s) - CHECK!
Level 100 Other professionals- CHECK! Many professionals are currently in progress with the goal of being available for crafting

Experience!

So many players in the guild are experienced players that are happy to help with advice and action

Communication!

We share the Discord channel with our sister guild from Henual. It's an active community of current and former Dofus 1.29 players.

Wiki Sysops!

My buddy, Ikarushka, and I created the 1.29 dedicated English wiki and are committed to building it out. You will have a direct line to the sysops of it to help you add articles or make updates
If interested, feel free to post or locate one of the members. You can also find me on Discord as "Cadderly".
Thanks!
-Cadd
p.s. wiki plug :
https://129dofus.fandom.com/wiki/129Dofus_Wiki
p.s.s discord link:
https://discord.gg/5PSasY2
Score : 454

Score : 188

hi im looking for a guild is this one still alive?
Score : 1189

RMT
-
SUBSCRIBER
-
May 22, 2019, 13:22:12
Very much so! What's your in game name? Some folks you can look out for "Kotone" "Cruendo" "Cadderly". I'll list some more when I'm in game
Score : 482

countrylove
-
FORMER SUBSCRIBER
-
May 24, 2019, 15:01:17
I may have to try 1.29 again now. Hopefully if i do i'll be able to get groups for things since i solo account on 1.29.
Score : 1189

RMT
-
SUBSCRIBER
-
May 24, 2019, 17:45:36
If you do, seek us out
Score : 188

My ig name on dofus 1.29 is Dronken or klevertjeniek . Barely started playing because didnt have much motivation but might change x)
Score : 38

Sounds good, just let me know.
Score : 188

Maybe you guys should make like a discord would be a bit easier with inviting and such x)
Score : 5

Score : 188

Not a valid invite. you have to press on the name of the channel and press "invite people"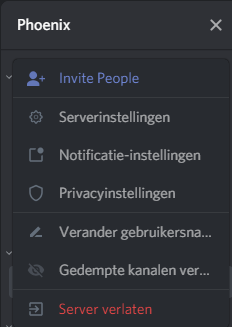 Score : 1593

piggypiee
-
SUBSCRIBER
-
May 26, 2019, 15:27:48
Id like to join, Ive just started on 1.29, playing on eratz? (both say unknown, the first one anyway.) Cra called Arrow-TDP
Score : 1189

RMT
-
SUBSCRIBER
-
May 27, 2019, 15:21:26
Added the discord link to the main post.

Piggypiee - probably easiest to join the discord and arrange an invite if you can. Glad to invite you!
Score : 260

Trapsnare
-
SUBSCRIBER
-
May 31, 2019, 06:22:28
Would like to join too, but Im unsure which server I am on. Both spaces were blank or had said something like unknown. Do you need to be online for me to add you to my friends list? Can't get it to work. 1.29 was so long ago that I've forgotten.
Score : 1189

RMT
-
SUBSCRIBER
-
May 31, 2019, 13:19:47