When my husband was linking 6 items of a set, he randomly decided to check the stats on Sandals Titudes and instead of stats he saw this: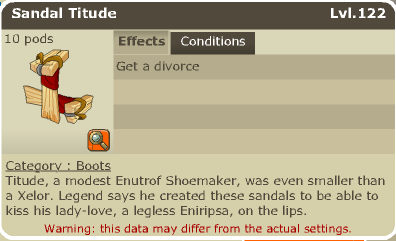 The linked set:

Could this be a bug? Hope not because it was really funny.
Score : 89

Score : 654

Well I'm sure glad you aren't obsessed with "signs"

So people, we are getting married in real soon, everyone is invited.
Score : 9387

If a lot of items are put into one message, a bug might occour that screws up the stats of the last item posted, which often causes it to display the get a divorce effect.
Score : 1422

puntang
-
FORMER SUBSCRIBER
-
October 11, 2009, 23:19:52
Maybe someone greater than all of us is sending him a sign........
Score : 2579

October 12, 2009, 03:24:15
I would be worried if wedding rings had that effect.
Score : 3279

Score : 16948

CoolRay
-
FORMER SUBSCRIBER
-
October 12, 2009, 07:09:29
Uhhh i dont know what happened there since im laughing so hard i cant breath! xD but mst be a bug or something

Leg*
Score : 2514

Them boots was made for walkin....
Score : 89

I'll still marry you, Lor. Don't worry <3
Score : 10910

well, it sure is funny

but it's nothing i've ever seen before

hope u'll have a happy marriage in RL
Score : 16948

CoolRay
-
FORMER SUBSCRIBER
-
October 14, 2009, 03:33:15
roflmfao i cant stop laughing maybe it has to do with the discription look


Leg*